I've been looking at this blog
Taylored Expressions
for several weeks now and I just love the idea of this Cupcake Challenge. Just to say cupcake is fun. It makes me want to go out and buy all different kinds of cupcake stamps. The rules state, that you do not have to use cupcakes, so for the time being that is what it will have to be until I can get my hands on some cute cupcake stamps. Thanks Taylor, for letting me play along. I love it and your work and all the fellow Cupcake challengers are great artists! I enjoy seeing all the different cards and it has inspired me to keep creating cards.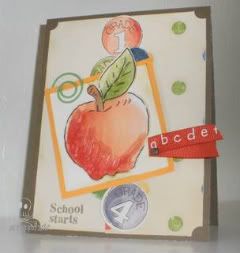 Here is my creation. I used
Close To My Heart
Cocoa Cardstock, My Reflections Stickease from the School Zone, polka dot paper is from the My Reflections Route 66 paper pack, Cranberry designer ribbon rounds, and then I used some liquid glass on the apple just to add a little shine.
So if you want to play along here are all the details you need to know.
1.You're not required to use cupcakes for the challenge, but if you got 'em why not use 'em!? :)
2.You're welcome to create something other than a card, just stick as closely to the sketch as possible and you'll be eligible for the prize drawing!
3.If you're uploading to Splitcoast use keyword
TECC25
(for Taylored Expressions Cupcake Challenge 24 or link your creation on this
post
.
4.Each week, I plan to have a
Featured
Cupcake Sampler
! The cutest and most creative sample from the previous week will receive the featured cupcake sampler honors. The winner will receive the sketch ahead of time in order to create a card that will be featured along with a link to your blog on Cupcake Friday!
If you like the idea of challenges check out this site:
mommyscraps.
I am also in the process of creating a weekly card challenge called
Burried Treasure Challenge
. Be on the look out on Monday for that one.