I'm starting a Monday card making challenge. The point of a challenge is to get you motivated and inspired and maybe to step out of the box and use something new. I will try to come up with some creative sketches or I will give credit to another sketch artist. I will post the challenge on Monday mornings and then the winner will be revealed on Friday.
I made this special card for my beautiful Aunt who is recovering from a mastectomy. She has been battling breast cancer for almost 2 years. Aunt Diane...I wish you a fast recovery we are thinking of you and we love you.
Products used:
CTMH Life Delights paper pack
CTMH Blush cardstock
Stamps: Butterflies and Say it in Style
other: liquid glass, just blooms and sparkles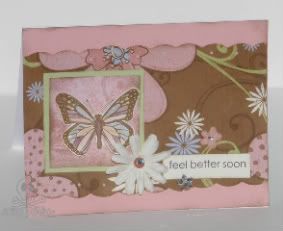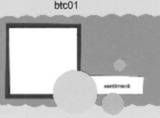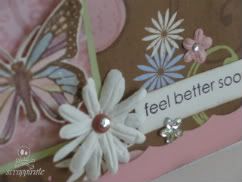 Buried Treasure Challenge:
Dig out all those scraps and some bling to create a little treasure to share.
Here are the details:
1. Create a card or a scrapbook page using scraps and some kind of "bling". Shiny paper, metallic paper, glitter, gems, cequins, window charms or liquid glass.
2. Follow the sketch as close as possible.
3. Post your
Buried Treasure
on your blog, gallery or email me a picture as an attachment (dnmchone@cox.net)
4. Leave a comment on this post with a link to your blog post or gallery.
5. All entries must be posted by Thursday and the winner will be posted on Friday.
6. HAVE FUN!
This is a layout I did for my daughter's birthday party. See, I did use my scraps :)