This summer we took the kids to see their Grandpa up in Cheyenne, WY. We drove through New Mexico and Colorado going up and then came home through Colorado and Utah. The kids did great in car. Curtis really enjoyed just looking out at the new scenery. Beautiful country in all states.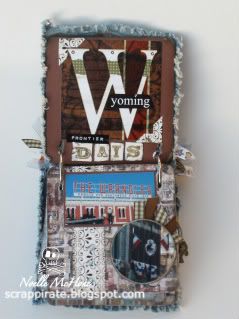 Of course as a scrapbooker, I was already planning my scrapbook. I found a scrapbooking store near the Rodeo grounds called:
Life's Journey Scrapbooking.
The ladies there were very helpful and showed me this little Denim covered chipboard album. I bought it, but it would be very easy to make. Just cut up some old jeans around the pocket and adhere to a chipboard album. I also found some Wyoming word stickers and west
ern looking brads by BoBunny. Added some flowers and ribbon to complete the cover.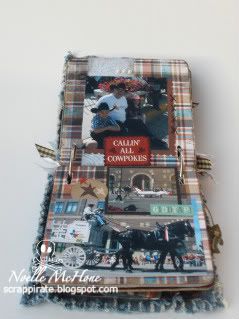 We were there during Cheyenne Frontier Days. Such a fun time to go. The weather was perfect, much better then the 115 back home in Phoenix. I used the
Sarsaparilla paper
pack from
Close To My Heart
, accompanied with some of the Creative basics Silhouette collection. I distressed the edges with Cocoa. More
CTMH
products: Dimensional Elements shipboard circles, chocolate ribbon rounds and clear sparkles.
Our Frontier Days trip wouldn't be complete with out a Parade,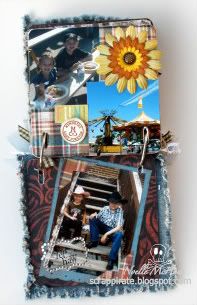 Rodeo and fishing. The Cowboy stickers from Creative Imaginations and some phrase stickers from K&Company were the perfect compliments to my pics and to the paper.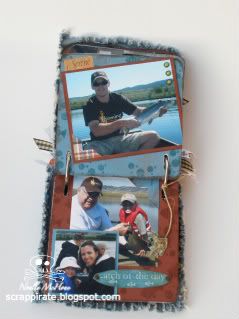 For the Fish on the line, I stamped the fish from
Beauty Seen
by
CTMH
on some patterned paper with Cocoa Ink and then distressed the edges. The eye is a copper eyelet and then used Liquid Glass from
CTMH
to cover the fish and give him a shiny finish.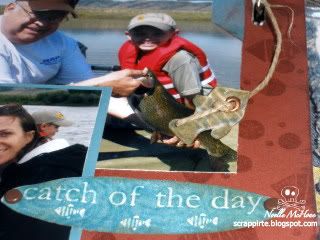 Next, I just tied him to some natural hemp. The background paper is cardstock stamped with some images from the
Beauty Seen
stamp set.
I love the
CTMH
rhinestone frames. They are the perfect size to highlight a picture or phrase.
Other stamps used:
Giddy up Alphabet
-
CTMH
and
Vintage Postcard
-
CTMH
.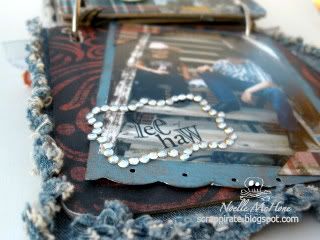 We had a great trip with lots of fun memories. This little mini album captures some of the highlights of our trip and is the perfect size to display on a coffee table, so everyone can enjoy it.