Cupcake Challenge #30
Wow! I can't believe that I was picked to be the
featured Cupcake sampler
this week for the
Taylored Expressions Blog
. It was such an honor and I really enjoyed doing this little number with all the circles. Great Design Taylor!
When I first saw the sketch, I stared at it for awhile and then it came to me... A cupcake study. My only problem was that I didn't have 8 little cupcake stamps. And once I have an idea in my head it's very hard to steer away from that idea. My philosophy is,
if you don't have it then make it
.
That's just what I did for the cupcakes.
I wouldn't call myself a very good drawer and I prefer to use stamps when all possible, but these were very easy to draw. Simple and cute, that's about the extent of my drawing skills.
I hope you enjoy and have fun with yours.
To play along you can visit Taylor's blog for all the rules and details.
Here's the sketch ->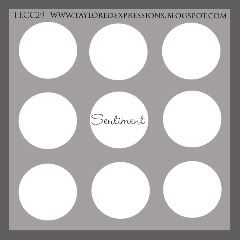 Thank you all who have stopped by this week and gave comments. They were all so nice and complimentary.
Supplies used:

Close To My Heart cardstock in Buttercup and Chocolate
Polka dot paper from the CTMH My Reflections Good Times paper pack
Prisma Glitter, Liquid Glass and red sparkles from CTMH
Waterbrush and ink colors: Buttercup and Twilight
Black satin ribbon